This month we are taking a deep dive into the articles released as part of the National Income Dynamics (NIDS) Coronavirus Rapid Mobile (CRAM) survey. This is the second wave of results to be released from NIDS CRAM, providing an overview of the experience of South Africans during lockdown regarding unemployment, household income, child hunger, education and access to government grants.
At Harambee, we are using this data to inform how best to respond to the challenges faced and opportunities that emerge to continue our support for young people.
The COVID-19 pandemic has had a devastating impact on employment outcomes in South Africa's labour market, with an estimated 3 million jobs lost between February and April 2020. Less skilled workers and low-wage earners were hardest hit, and likely to lose their jobs or be furloughed (take an unpaid leave of absence from work) during the lockdown.
This pattern was partly reversed between April and June, but not enough to recover to February levels. In fact, almost 25% of those furloughed reported no longer having a job by Wave 2, despite lockdown restrictions easing.
1. Women were the worst affected, and continue to be the 'shock absorbers' of the lockdown
Image Source: Harambee Youth Employment Accelerator, 2020
The first wave of the NIDS-CRAM results, released in June 2020,  reflected that two-thirds of the total jobs lost were by women and Wave 2 suggest that women continue to fall further behind. The wage gap widened, with working women earning an estimated 29% less hourly wages than men before the lockdown, which increased to 43% less than men in June. This deepening gender wage gap is especially severe amongst the poorest 40% of wage earners. Women were the hardest hit but did not benefit from the relief provided, on account of the fact that they may have been excluded for receiving child support grants. Despite the fact that women represented 58% of those who lost their jobs, only 41% of beneficiaries from the Unemployment Insurance Fund (UIF) and COVID-19 Social Relief Distress Grant (SRDG) were women. This was likely because the COVID-19 relief grant cannot be held with another grant such as the Child Support Grant, which effectively penalises unemployed women who are also the main caregivers to children.
Women bore the brunt of closures of childcare centres, with more than twice the number of women reporting that childcare in June prevented them from going to work.
Action Steps
Provide women with income support to help compensate for earnings losses as a result of lockdown. This includes:

Reviewing social assistance structures such as the SRDG to ensure that it does not penalise mothers and caregivers of children;
Extending the Child Support Grant top-up beyond October as it is well-targeted at women;
Ensuring fair and timeous pay-outs from the UIF.

Support the safe and urgent reopening of schools and ECD centres.
2. Social assistance during South Africa's national lockdown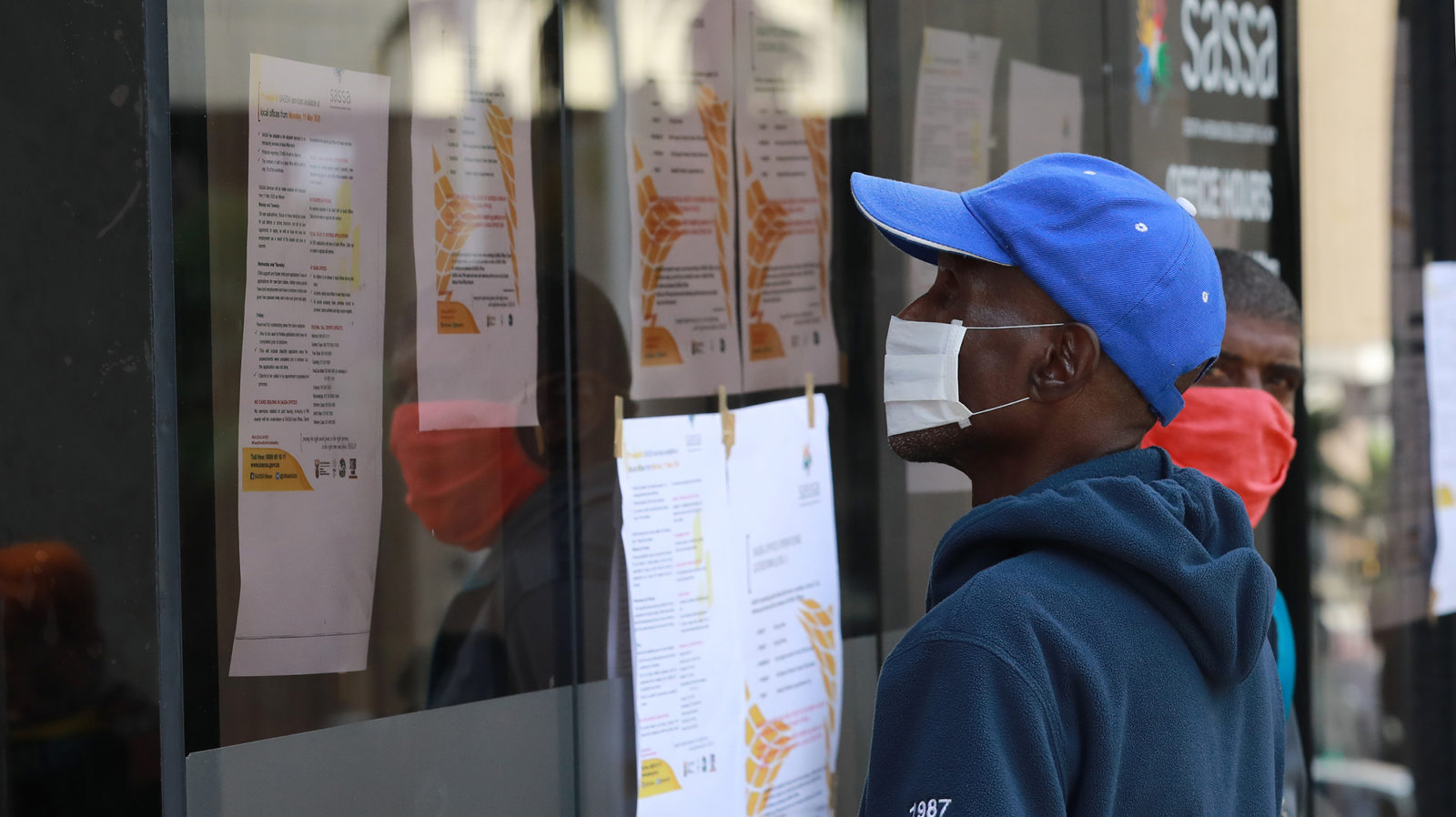 Image Source: South African Medical Research Council (SAMRC), 2020
In response to the adverse effects of the COVID-19 pandemic and resulting economic lockdown, South Africa's government identified a package of relief measures to expand social protection systems. This included a COVID-19 Social Relief of Distress Grant (SRDG) for unemployed individuals, and a Child Support Grant (CSG) 'per grant' top up of R300 in May and 'per caregiver' top-up of R500 from June onwards. The good news is that the COVID-19 relief grant brought millions of previously unreached individuals into the system, and the grant reached the most deserving – of those who received the grant, the majority were in low-income households. The grant was also successful in reaching those who had fallen into poverty during lockdown, indicating the grant's success as an interim relief measure. Whilst the study found that both the 'per child' and 'per caregiver' top-up of the CSG was progressive, the 'per child' top-up was marginally better because more than two-thirds (66.8%) of CSG-receiving households receive more than one CSG.
Although the government's expansion of social assistance is due to come to an end in October 2020, continued labour market conditions that disproportionately burden vulnerable individuals may require policymakers to consider alternate policy measures:
An extension of the current policy package that is top-ups to existing social grants and the availability of the special COVID-19 SRDG grant remain in place.
A Basic Income Grant (BIG) of two varied amounts, targeted at individuals who are between the age of 18 and 60 years, are not employed, and do not receive any social grant or benefits from the UIF. One amount suggested is equal to the inflation adjusted Statistics SA food poverty line of R585 per person per month, and another approximately equal to the Statistics SA upper-bound poverty line (R1 200 per person per month).
A special COVID-19 Public Works Programme

which provides limited employment (restricted to 10 hours per worker per week) and a transfer equivalent to the National Minimum Wage, with the same eligibility criteria as the BIG.
Action Steps
Recommend the extension of the COVID-19 relief grant and importantly, identify plans for what happens beyond the extension. Government recently announced that the current SRDG grant has been extended for an additional 3 months (see here).
Undertake additional research to fully understand the impact of the proposed alternate policy measures, e.g. basic income grant and public works programs.
3. Differences between formal and informal workers' outcomes during the COVID-19 lockdown in South Africa
Image Source: Harambee Youth Employment Accelerator, 2020
Unlike the rest of Africa, where 86% of all workers are in the informal economy, only a third of South African workers are employed informally. The small size of the informal economy is partly attributed to high barriers to entry and high reservation wages among the unemployed. Informal workers in South Africa and the world over bore a disproportionate burden of the COVID-19 lockdown and social distancing measures. Apart from informal workers who provide essential goods and services, these regulations meant a loss in livelihoods for informal workers, especially those who rely on day-to-day earnings. The rate of vulnerability to income loss for formal workers was lower, largely because they are cushioned by various contractual agreements. Job losses were higher among informal (36%) compared to formal workers (11%), with informal workers in urban areas being more vulnerable when compared to those in rural areas.
Action Steps
Need for interventions to pathway all workers (whether formal or informal) into income generating opportunities.
Introduce policies to improve informal worker wages which acknowledges different types of informal work.
Identify social safety nets to cushion informal workers from loss of income.
Investing in value chains between the formal and informal sector, government and partners in order to recover and grow the economy to support informal enterprises.
Figure 1: Proportion of employed South Africans who became unemployed in wave 2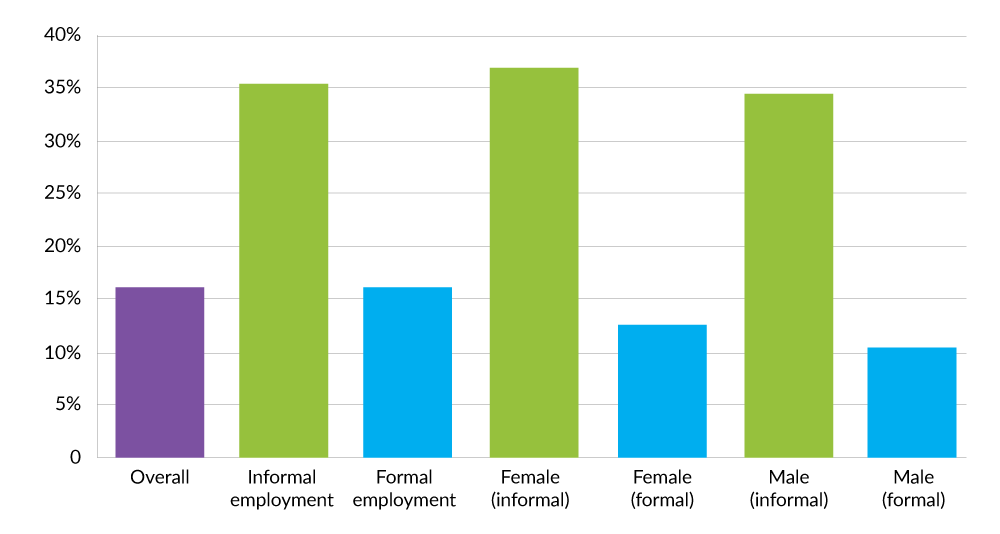 WHAT IS HARAMBEE DOING TO SUPPORT RECOVERY? 
Linking young people to income-generation opportunities and online learning: visit SAYouth.mobi (data-free!) or call the toll-free SA Youth inbound support line at 0800 72 72 72.
Supporting informal sector initiatives, offering online content and mentorship for hustlers through a WhatsApp chatbot.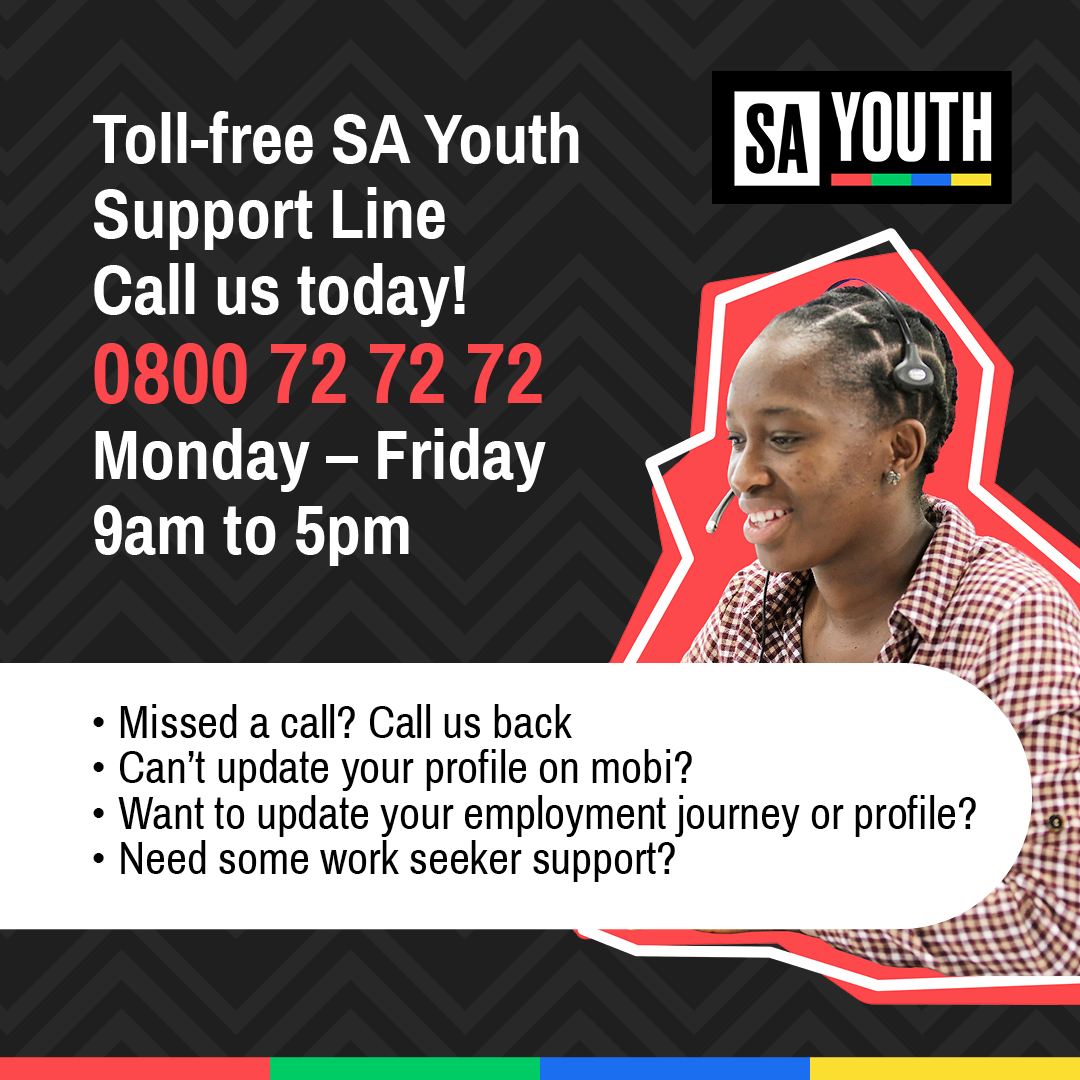 Say "Hi" to +27 87 2405 122
Get daily tips and challenges.